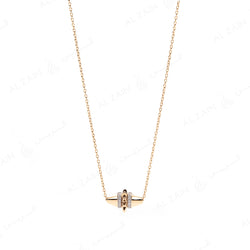 قلادة حب الهيل من الذهب الأصفر المرصعة بالماس
عقد من الذهب الأصفر مرصع بالألماس من مجموعة حب الهيل بعجلة مركزية تدور.
وزن الذهب بالتقريب: 3.96 جرام
وزن الماس: 0.1 قيراط

18 قيراط ذهب
قد تختلف العناصر لدينا قليلاً من وزن الذهب ووزن الحجر حيث أن كل قطعة مصنوعة يدويًا.
قد يتم تطبيق ضريبة القيمة المضافة والرسوم والضرائب بناءً على بلد إقامتك.
Note: When printing, set as "Do not Scale" option or with "100% Scale" on your printer settings to avoid mistakes with the ring sizer
Click on this link to download and print our Size Guide.
Customer Reviews
07/03/2020
Haya A.
Bahrain