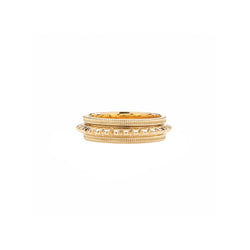 خاتم حب الهيل من الذهب الأصفر
باستخدام عناصر من المجوهرات البحرينية التقليدية ، يشبه حب الهيل بذور الهيل ، وهو نوع من التوابل الغالية جدًا في البحرين التقليدية المعروفة لخصائصه العلاجية. كانت هذه المجموعة تدور حول إعادة تصميم تراث البحرين بطريقة حديثة وبسيطة.
خاتم حب الهيل
وزن الذهب بالتقريب: 6.10 جرام
18 قيراط ذهب
قد تختلف العناصر لدينا قليلاً في وزن الذهب ووزن الحجر حيث أن كل قطعة مصنوعة يدويًا.
قد يتم تطبيق ضريبة القيمة المضافة والرسوم والضرائب بناءً على بلد إقامتك.
Note: When printing, set as "Do not Scale" option or with "100% Scale" on your printer settings to avoid mistakes with the ring sizer
Click on this link to download and print our Size Guide.
Customer Reviews
09/26/2019
Kristel J.
Bahrain
So nice ring
So nice and good quality of ring.