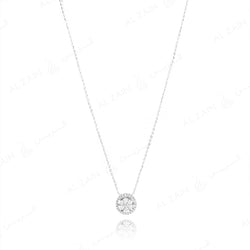 18k White gold pendant illusion set diamonds
18k chain necklace with 10mm set pendant.
Gold Weight approx.: 2.58 g
Diamond Weight approx.: 0.34 ct
18k Gold
Our items may vary slightly in gold weight and stone weight as each piece are handcrafted.
Vat, duties & taxes may apply based on your country of residence.
Note: When printing, set as "Do not Scale" option or with "100% Scale" on your printer settings to avoid mistakes with the ring sizer
Click on this link to download and print our Size Guide.