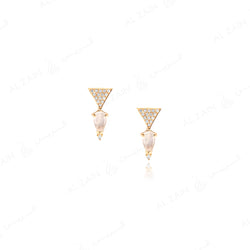 Melati triangle Earrings in Yellow Gold with Diamonds and moon stone
The Change Collection symbolizes individuality. Its signature triangular detail and healing stones serve as little reminders to encourage positive change within its owner.
Yellow gold triangle earrings with diamonds and moon stone designed by The Melati. 
Gold Weight approx.: 1.41 g
Diamond weight approx.: 0.05 ct
Colour Stone Weight approx.: 0.6 ct
18k Gold
Our items may vary slightly in gold weight and stone weight as each piece is handcrafted.
Vat, duties & taxes may apply based on your country of residence.
Note: When printing, set as "Do not Scale" option or with "100% Scale" on your printer settings to avoid mistakes with the ring sizer
Click on this link to download and print our Size Guide.