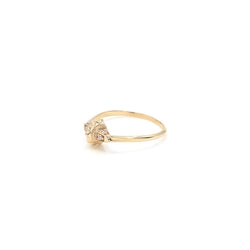 18k Hab El Hayl Origins Ring in Rose Gold with Diamonds
Hab el Hayl Origins, 4th edition. Inspired by the initial inspiration of Cardamom seed, known as the queen of spices. It is also the name of an Arabian Bedouin jewellery element.

Rose gold ring with white diamonds from the Hab El Hayl Collection.

Gold Weight approx.:  2.37 g
Diamond Weight approx.: 0.06 ct
18K Gold
Our items may vary slightly in gold weight and stone weight as each piece is handcrafted.
Vat, duties & taxes may apply based on your country of residence.
Note: When printing, set as "Do not Scale" option or with "100% Scale" on your printer settings to avoid mistakes with the ring sizer
Click on this link to download and print our Size Guide.