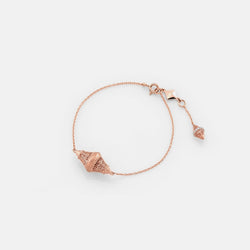 Al Merriyah in 18k Rosegold Matte Finish Bracelet with Diamonds
Al Merriyah collection took its inspiration from the date fruit of the Arabian palm trees. Deeply ingrained in the Khaleeji culture, dates serve as the main design element in this collection. Choose from 18k Rose gold matte or a polished finish, all decorated with diamonds placed to enhance the the overall design and accentuate the delicate Arabic designs captured masterfully in each element.
Gold Weight approx.: 3.38 g
Diamond Weight approx.: 0.1 ct
18k Gold
Our items may vary slightly in gold weight and stone weight as each piece is handcrafted.
Vat, duties & taxes may apply based on your country of residence.
Note: When printing, set as "Do not Scale" option or with "100% Scale" on your printer settings to avoid mistakes with the ring sizer
Click on this link to download and print our Size Guide.