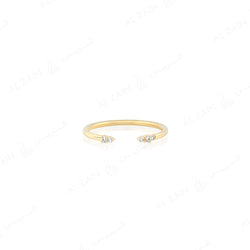 Melati "Eclipse" Ring in Yellow Gold with Diamonds
When the moon crosses over the sun, though they might not physically meet, their ethereal union merges the conscious world with the subconscious. When these two contrasting sense meet, is where the magic of life begins. The beginning of Eternity. It breaks through time and space to merge the day into night, and the night into day.

Yellow gold ring with diamonds from Melati "Eclipse" collection.
Gold Weight approx.: 1.29 g
Diamond weight approx.: 0.05 ct
18k Gold
Our items may vary slightly in gold weight and stone weight as each piece are handcrafted.
Vat, duties & taxes may apply based on your country of residence.
Note: When printing, set as "Do not Scale" option or with "100% Scale" on your printer settings to avoid mistakes with the ring sizer
Click on this link to download and print our Size Guide.