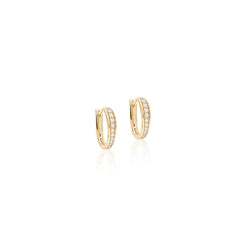 Small Diamond Hoops
Hoops are a statement of confidence, strength, and diversity. Being a perfect circle, hoop earrings symbolize wholeness, unity and infinity.
With many designs and unique sizes, hoop earrings stand out alone or make a powerful statement when stacked.

18k yellow gold, rose gold and white gold

Gold Weight approx.: 2.87 g
Diamond weight: 165 ct
Our items may vary slightly in gold weight and stone weight as each piece is handcrafted.
Vat, duties & taxes may apply based on your country of residence.
Note: When printing, set as "Do not Scale" option or with "100% Scale" on your printer settings to avoid mistakes with the ring sizer
Click on this link to download and print our Size Guide.